Welcome to my rounding up of 2019, a year that um… well I'm going to focus on the positive things on here, because that's needed sometimes.
I didn't get as much done on the website this year as I would've liked. The first half was dominated by the fact that I didn't… have a working website for several months and had to migrate over to the current one, and then I finished the Ocarina blog and then a smattering of small pieces otherwise, but not much more than that.
So there's a lot to cover that I haven't from this year! Let's get going!
If you haven't seen one of these before, I'm going to mention a bunch of things I liked from this year, either that I experienced, read, played, watched, or otherwise came into contact with. It's a list of everything and its ordered loosely chronologically. So you can follow my year, sort of!

I don't think I have to introduce The Wire. I think most people have at least heard of it. Or if you haven't, you can think of it as Obama's favourite TV show. (Yeah, I'm not kidding).
I had heard a fair bit about how good this show was, often in passing but never in detail, but I had a lingering HBO subscription so I thought I might as well check it out.
I was hooked from the first scene.
This might be the greatest piece of television in existence. I totally understand why this show is so acclaimed.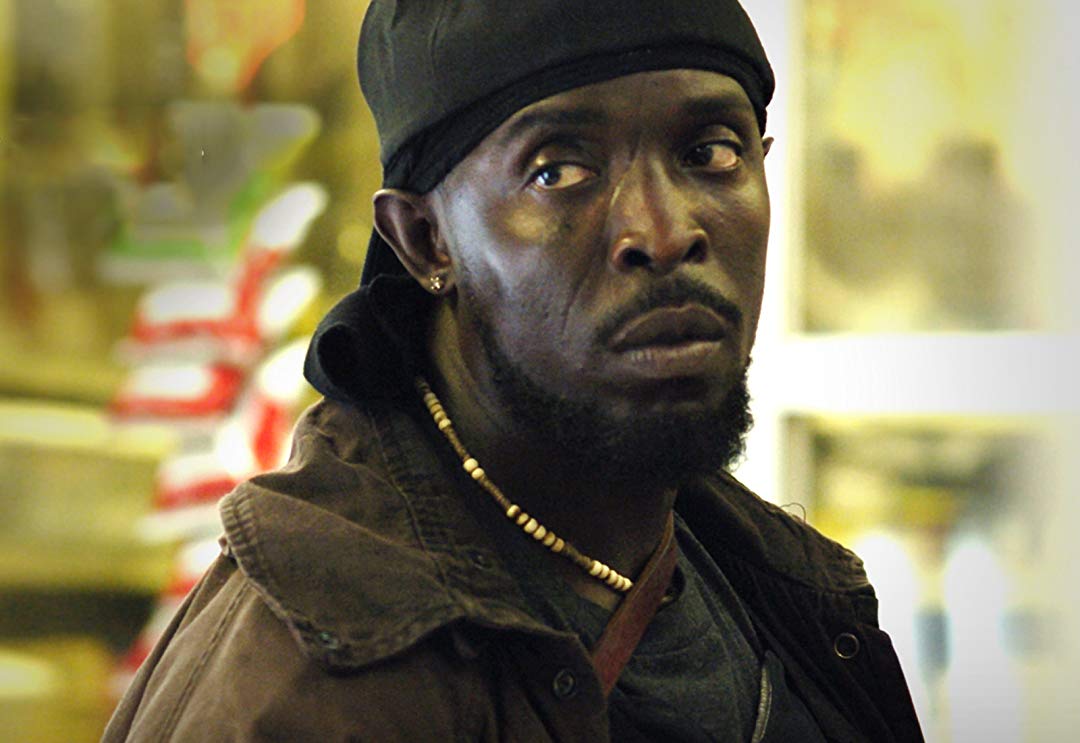 COME AT THE KING
I didn't play much Apex outside the first couple of weeks but this is on here because of what Respawn managed to do with this launch.
We heard on rumours over the weekend that Respawn was announcing a new game. That monday they held a stream in the evening. On stream they announced that the game was playable right now. We downloaded and played the game That Same Night.

It was a wild, cool, experience, the kind that doesn't happen in our current marketing hype-cycles. Seeing it explode on Twitch and everywhere was super fun. And it's also a pretty darn good game.

My Beat Saber Machine is my favourite piece of tech I got this year. I bought it from a friend who wanted to buy one of the lighter non-tethered Beat Saber machines on the market, but I'm fine with this one!
It's a great Beat Saber Machine. Beat Saber is incredible. It's become a really good workout game—if I don't leave the house for a full day I'll often knock out an hour in here to get some exercise. It's incredible.
What other games---what are you talking about? I can't… who said that? Noo you heard wrong. You see, Facebook—
Danger released a new album this year to a big surprise since it's only two years since his last one. It made a little more sense when I realized it was a collection of old songs, but that doesn't make it slap any less, and it has the added bonus that most of these songs have never been released officially before. Danger still makes bangers.
Songs to check: 11:17, 16:56, 22:39.
(Also sidenote, this made me dig into his unreleased discography which made me discover this song which is sick).
ALSO: I saw Danger Live in Copenhagen which was rad and awesome.
So I… kinda got into F1 this year?
Drive to Survive is a Netflix series, and it's great. I recommend it even if you're not into F1 or motorsports (I wasn't really). But I knew of it because of these wonderful people at shift+f1 (following them from Giant Bomb), so I was aware of the sport, at least. And then I watched Drive to Survive, and listened to some of the podcasts, and realized that you can subscribe to F1 TV online for 3 dollars a month to watch every race right after it happens, so I was in.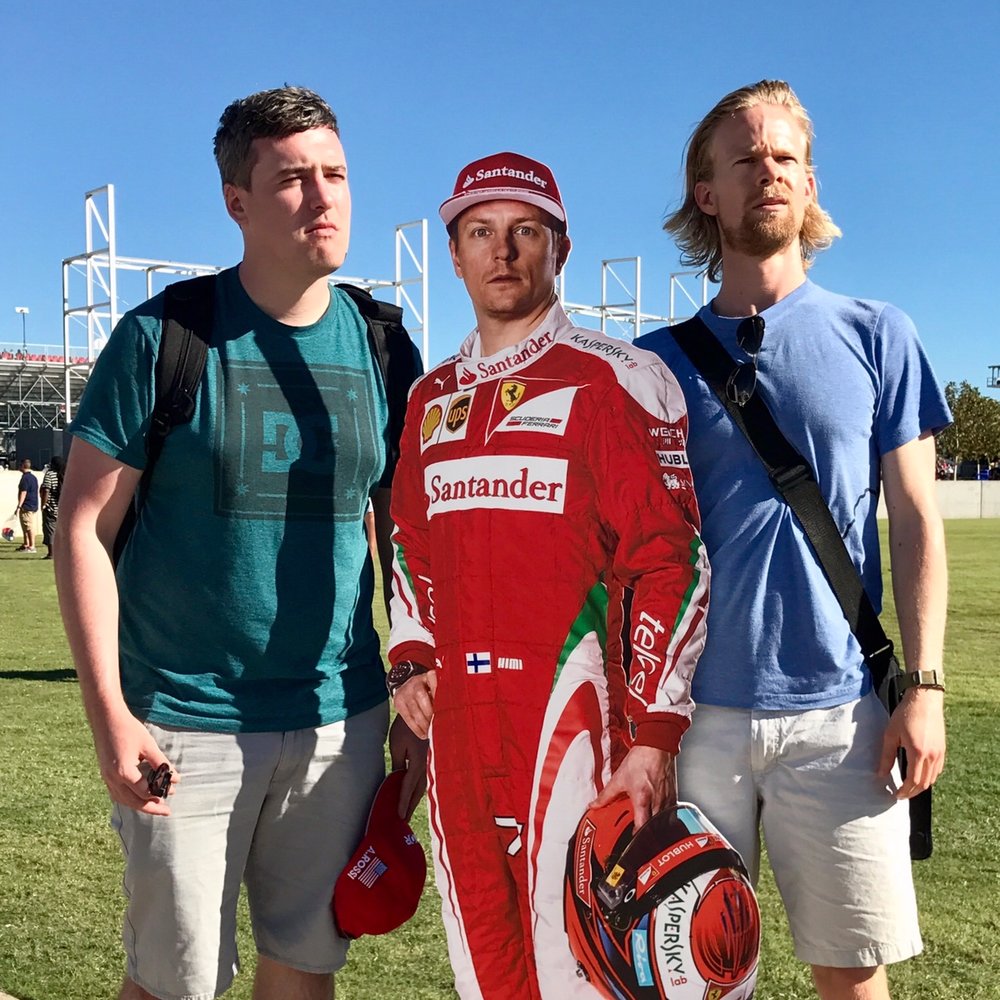 And I've mostly enjoyed it! I have more thoughts than I can fit in here but F1 is a loud, silly sports-soap with some rich boys who drive around in circles and have interpersonal drama. It's sometimes boring but when its fun it can be magical.
Yeah, that's not the description you were expecting, I bet.
Nils Frahm Live – Nils Frahm – Live Concert
I've wanted to see Nils Frahm Live for a long while now, and missed my chance last year, but then I could subscribe to a waiting list which got me tickets for this year's concert, which also sold out almost immediately.
And boy it was good.
I was so happy when I left. Hearing Says live was a damn near perfect experience.

Kingdom Hearts III came out this year.
I don't care about Kingdom Hearts.
What I do care about though, is lore. Of almost any kind. Lore Reasons was Waypoint's attempt at diving into the Kingdom Hearts lore in time for III by watching lore recaps and then talking about them over a series of podcasts. And hearing them flail to explain the absolute bonkers plotlines of Kingdom Hearts 1-2-name-random-number-and-it's-probably-a-Kingdom-Hearts-game was a lot of fun. And reaching a point where I, along with them, get why people like Kingdom Hearts was also great fun.
I'm so sad they haven't found out how to continue the series with Natalie gone, because Lore Reasons has such potential and may be my favourite thing they've done this year.
I wanted to read a Mieville book. I'd wanted to do that for a little bit and I debated which one to pick. I went with not the most traditional first choice I think, but I picked it because it was described as "Mieville does epic fantasy", which seemed like a good middle ground when I was also in the mood for some epic fantasy.
And boy it doesn't disappoint. It's epic in scope and strange and unexpected.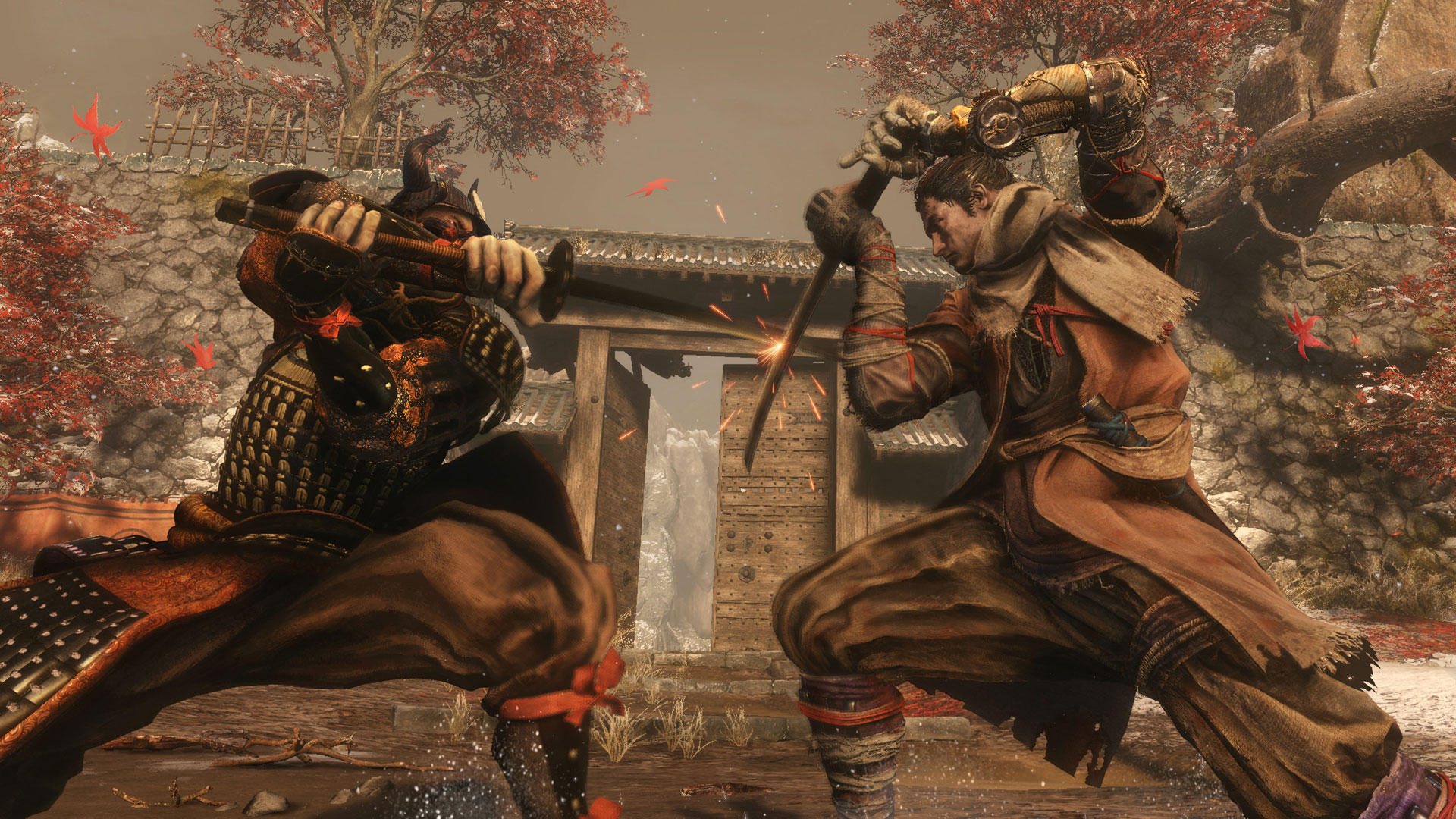 It took about a day and a half for Sekiro to click with me. FromSoft's latest is a depature from the Dark Souls formula, in a key way that took some time to wrap my head around. But when it clicked there was no stopping it. There is no game that has felt so satisfying to play this year. There is no game that makes me feel like a swordsfighterninjaman like this game does. There is nothing that beats the assuredness you get when you get an absolute perfect fight in that game, against a boss that three-shot you hours earlier. Some of my absolute favourite moments in a game was from this year. The two major boss fights from this game BOTH came down to the closest I-have-no-health-the-boss-has-no-health super tense duels that I will forever remember as some of my absolute highs this year.
In case you missed it, I finished my silly quest to play Ocarina of Time this year, and I wrote a long post about it. It was a lot of fun to play through it and a decent way to start up my new website slowly again.
I still don't know what to do with Sunday Morning Game but maybe I'll start something similar in the new year.
This was really the year when I went deep on hbomberguy's entire YouTube catalogue, but I'm mentioning the Climate Denial video as it's the one that solidified it all for me. But really, it's his entire thing I want to talk about, from his great video on speedrunning, to his bonkers Donkey Kong livestream that was a joy to see become something magical, even if I mostly caught it after the fact.
Sometimes, he gets a little too… "scream-y" for me but I enjoy his analysis and intelligence enough to make up for it. He's definitely become a schedule-to-watch-the-new-video-on-launch-type personality for me.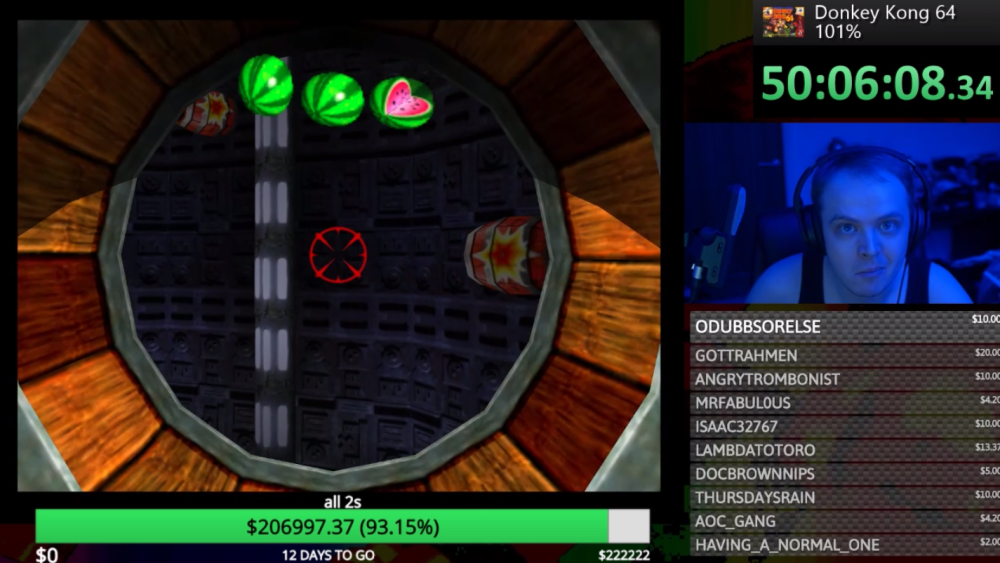 The face of a man realizing he's gotten into something bigger than he expected.
Flume announced he was doing a livestream of his new album—did he call it an album then? I'm not sure—his new "thing" live on youtube. Which was a bit of a fun way announce an album for sure. But he did and it was a cool experience. The visuals really made that thing memorable and its really nice to have Flume back and doing his experimental style. It should really be experienced first time like that, in one sitting, for the full effect. I don't like all of it, but it's worth it at least once. It might be my favourite of Flume's complete works, just for how out there and confident it is.
Songs to check: Spring, Jewel, Is it Cold in the Water? Remix.
I had a bit of an off period with the Total War series for a while, but after I heard a bunch of praise for this new one I decided to plunge and dive in, and sure enough, this thing's pretty good. A nice, solid foundation of what makes Total War good with a splash of personality and characters that force some nice drama.
Netflix rereleased Neon Genesis Evangelion (or Eva) and Waypoint took the opportunity to do a full watch of it, and I watched it with them.
I'm… not sure I like Eva, in the end. There are parts of it, moments, that shine, but there is a lot of things I don't love. But I did enjoy listening to the crew dissect every episode so even when the show took some strange turns, it was enjoyable to hear them talk about how and why.
Everyone and their pet pig was freaking out about this movie last year. I was fashionably late and decided to freak out about it this year.
This is the best superhero movie ever made. No contest. It's hella stylish, flashy, well-told, phenomenally done and just a joy on every level.
And it let to me listening a bunch to…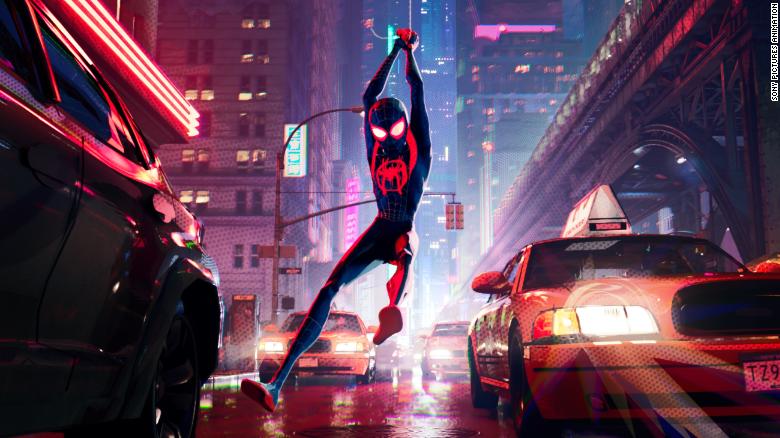 This song is used at the best scene in Spiderverse and I've listened to it a lot since then, just to bring back the memory, and to live it in for a bit. It's a damn joy. And sure, the stand-alone song loses a little because it isn't mixed in with the movie-score but it is still a good hip-hop song in its own right and its fun to sing along to.
I was certain nothing could beat Sekiro of my Game of the Year spot this year.
I was fucking sure.
I was so, so wrong.
Not only does Outer Wilds win my GOTY this year, it wins by a sun (what). It's maybe in my top 3 games of all time. At least in the top 5. It's… just go play it, okay?
I still haven't written a blog post about this game even though I've swirled around it several times just because I don't know what to write. I am incapable of nailing in words just how much this game is. Just how wonderful it is. Just how spectacular it is.
I get chills, literal shakes every time I listen to the soundtrack still. Every time I sit and really think about the final moments I have to stop and breathe for a bit. It's… I'm so in awe of that game.
This is one of a kind experience. I have never played a game like it. I have never felt the way this game makes me feel.
It's a game about answering questions about the universe. It's a game about scientists and explorers, trying to understand the world and being eternally kind while doing so. It's about being alone in a dying universe and coming to terms with endings and new beginnings.
It's a game about life and death. And everything.
PLAY OUTER WILDS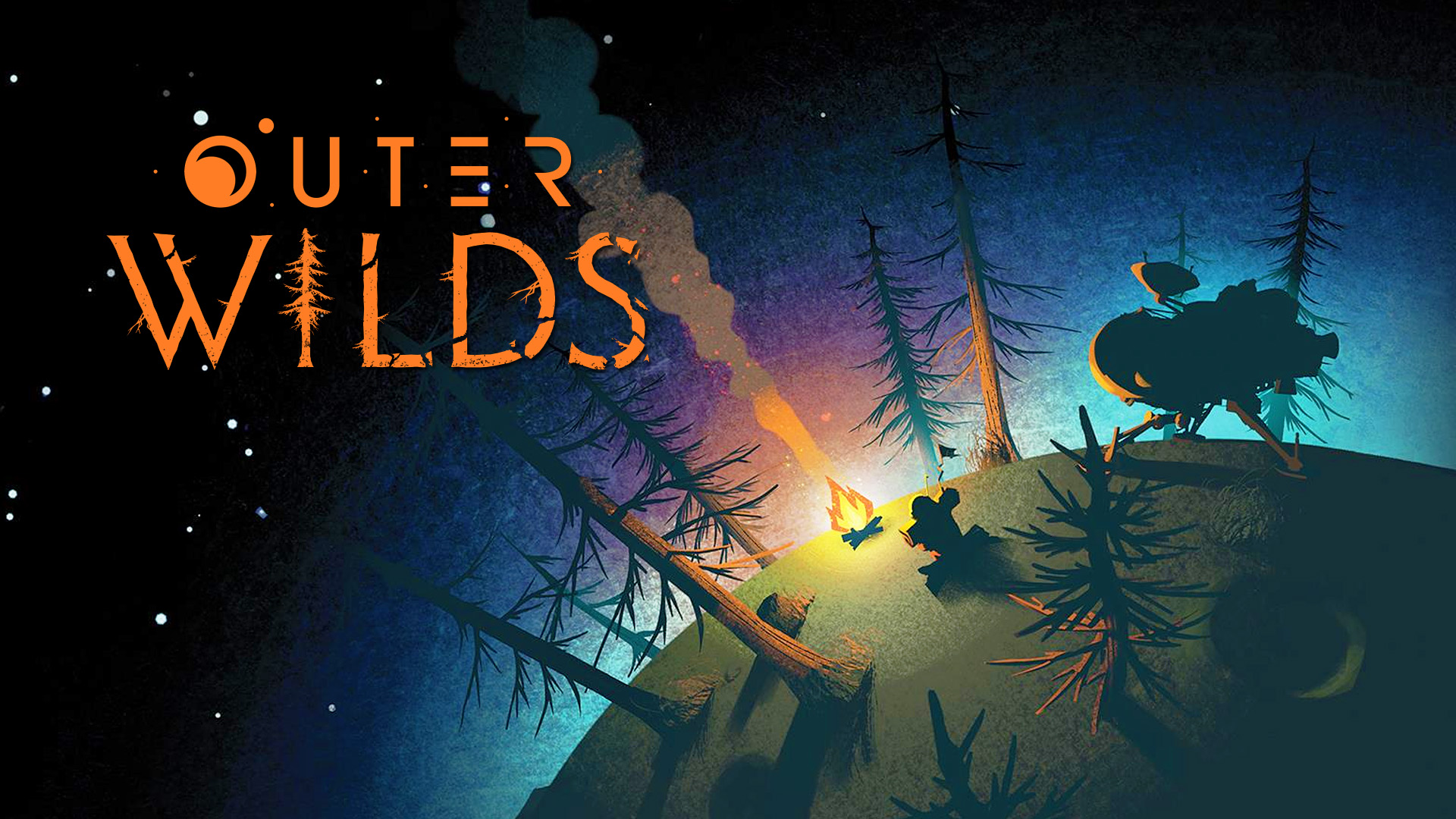 I bought a Switch! About a month before they announced they were updating the hardware! Boy I feel so lucky!
:/
Oh well, it's still a damn fine system. I got Super Mario Maker 2, Breath of the Wild (bought in Japan!), and Fire Emblem on it so far.
I fell off Mario Maker somewhat quick but I still am working my way through Breath of the Wild and liking it a lot.
Fire Emblem I had to take a break from because I burned myself out a little on playing too much of it, and it gets a little too formulaic for me (or, repetitive? Or cyclical?). I like the characters and do want to see what happens to them, but I'm having a hard time playing it right now.
Anyways, enough negativity, the Switch is great!
I went to Japan! With some friends! It was a jolly good time! I wrote about climbing Fuji here (and Celeste). But we also experienced Tokyo, Osaka and Kyoto and ate a lot of great food and saw some cool things.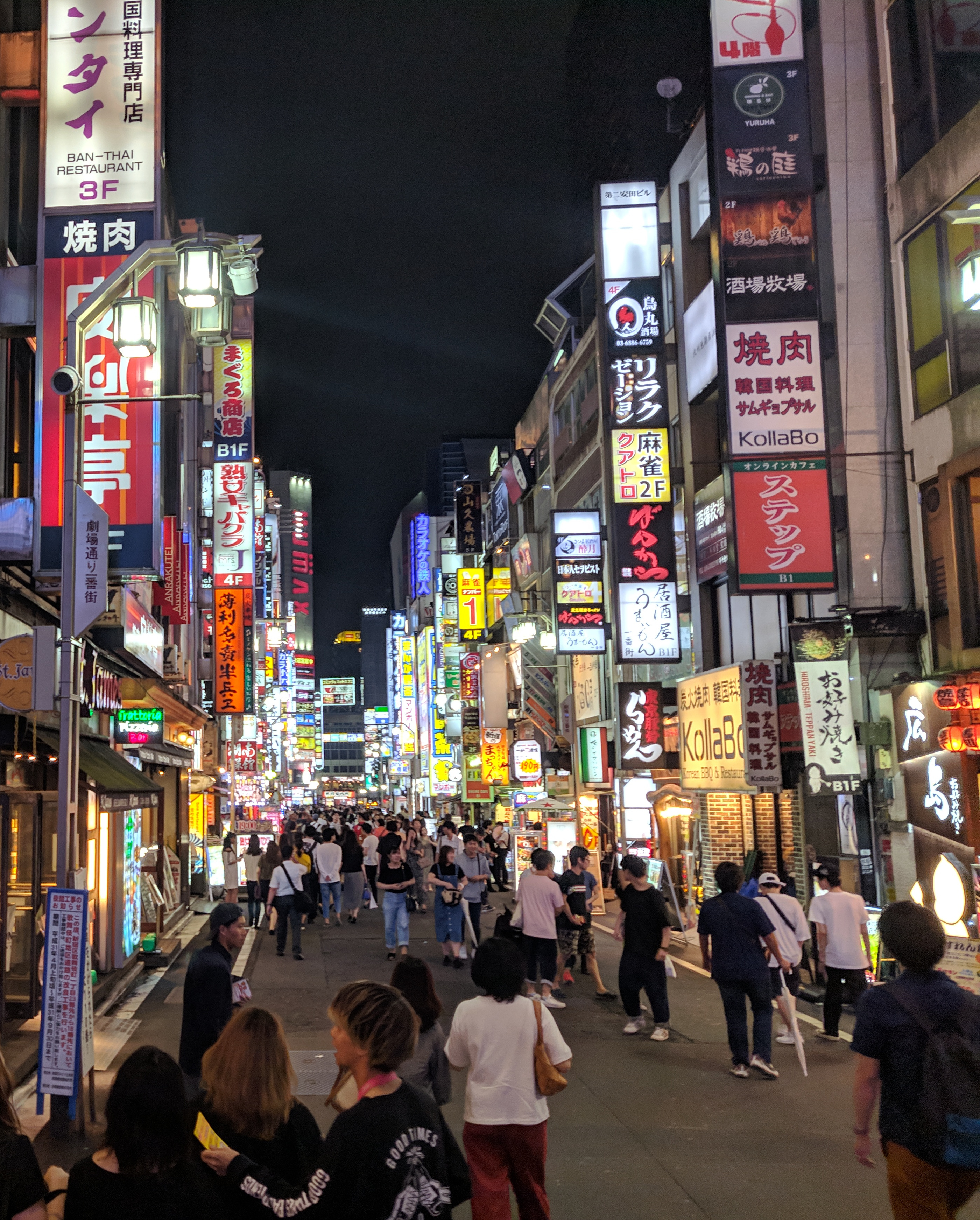 I really liked being in Japan. It was one of the few vacations where I barely got homesick and felt genuinely sad when I had to leave.
It was such a fun place to be.
If maybe a little too hot. Don't go in August, folks.
I've watched The International as my only Dota 2 tournament since TI3 in 2013. I still don't really play Dota but by now I've learned a bunch about the game pretty much from watching this one event every year for 7 years.
It's the best esports event of the year. In any game. Period. It is better produced, better staged, better organised than pretty much any tournament out there. And yes, it helps that it has Valve's infinite pockets to help sort that out, but it's just a joy to watch from an experiential perspective.
And the games always end up being spectacular. This didn't have the high of last year's final (which is also virtually impossible to top), but it had a bunch of phenomenal games and stories leading up to that point, and it was as always a spectacular experience.
This was last season of Orange is the New Black and everything in it definitely felt coloured by the fact that they had to give the characters meaningful send-offs. It was a good finale, in general. It was nice to be able to say goodbye to all the characters in a good way. It wasn't the strongest season overall, but it did have a couple of phenomenal moments, including one that straight up broke me into tears in a way I haven't experienced with a TV show ever.
(To those who've seen it, the Karla birthday phone call scene. Fuck.)
I also wrote about Celeste this year, and specifically, relating it to my experience of climbing Mt. Fuji. I'll still mostly refer to that because my opinions on Celeste are so shaded by that experience I can't fully separate them.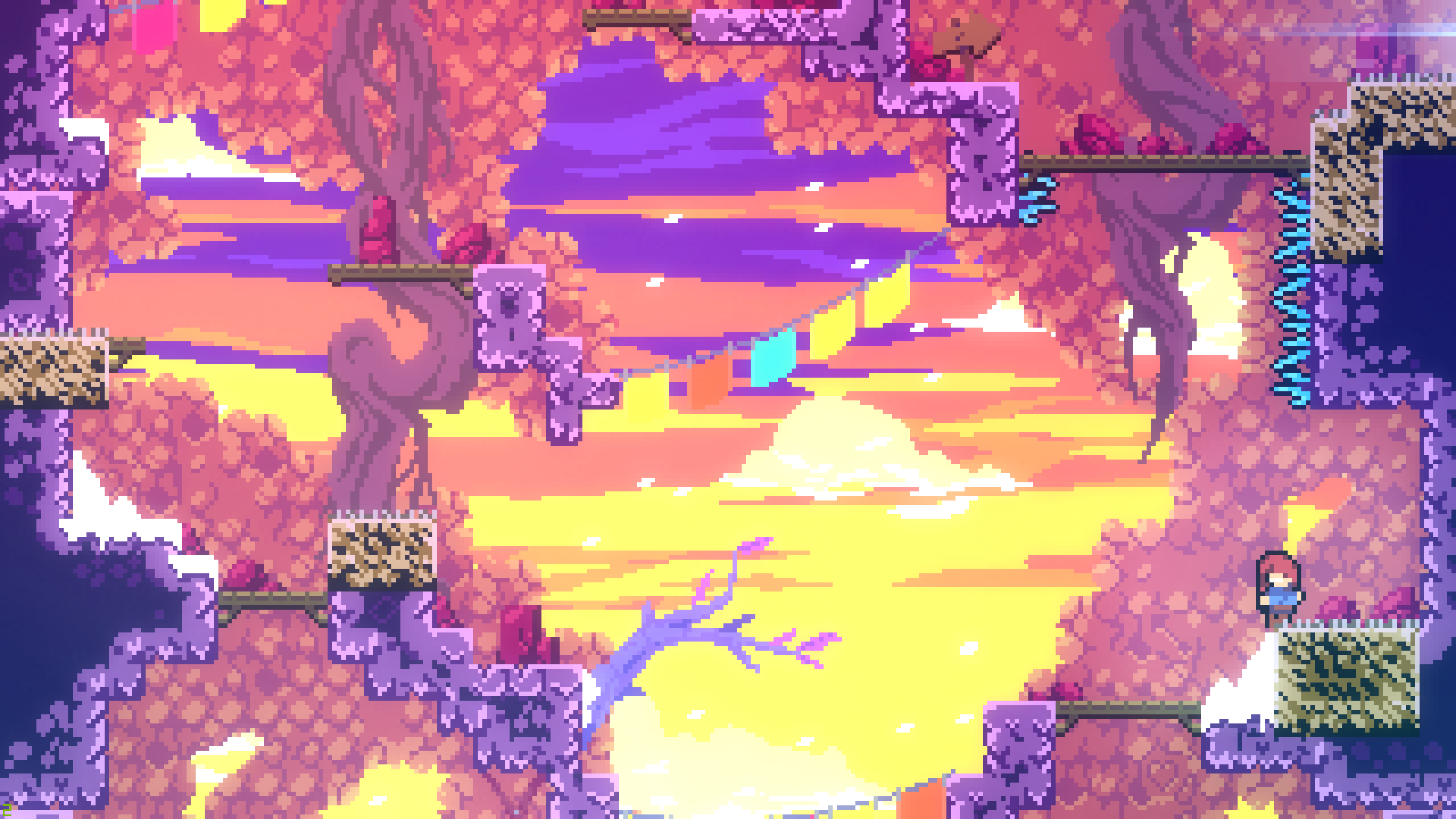 Celeste is an incredible platformer, with a deceptively simple look, style, story and gameplay, that consistently works to challenge you and mold you into someone who can best it. It's soundtrack is also incredible and works so well with the game. I didn't realize how well until I'd played it.
After making the soundtrack to No Man's Sky, I was greatly anticipating what 65dos was going to do next. It turns out, their choices were as eclectic as one could hope and be afraid of. They did a subscription thingy which I'm still not entirely sure I understand and then this album, which it at once a departure from their old sound as much as it is a welcoming of what they were already doing on No Man's Sky.
It's atmospheric, spatial, full of intricate, strong sounds, and not quite what I expected or maybe hoped for. But there are still a couple great songs on there, so all in all I am pleased. Excited to see what they do next.
Songs to check: five waves, z03, trackerplatz
After the announcement of Bungie's release from Activision and this next expansion, I have never seen so much expectation for an expansion since… Burning Crusade?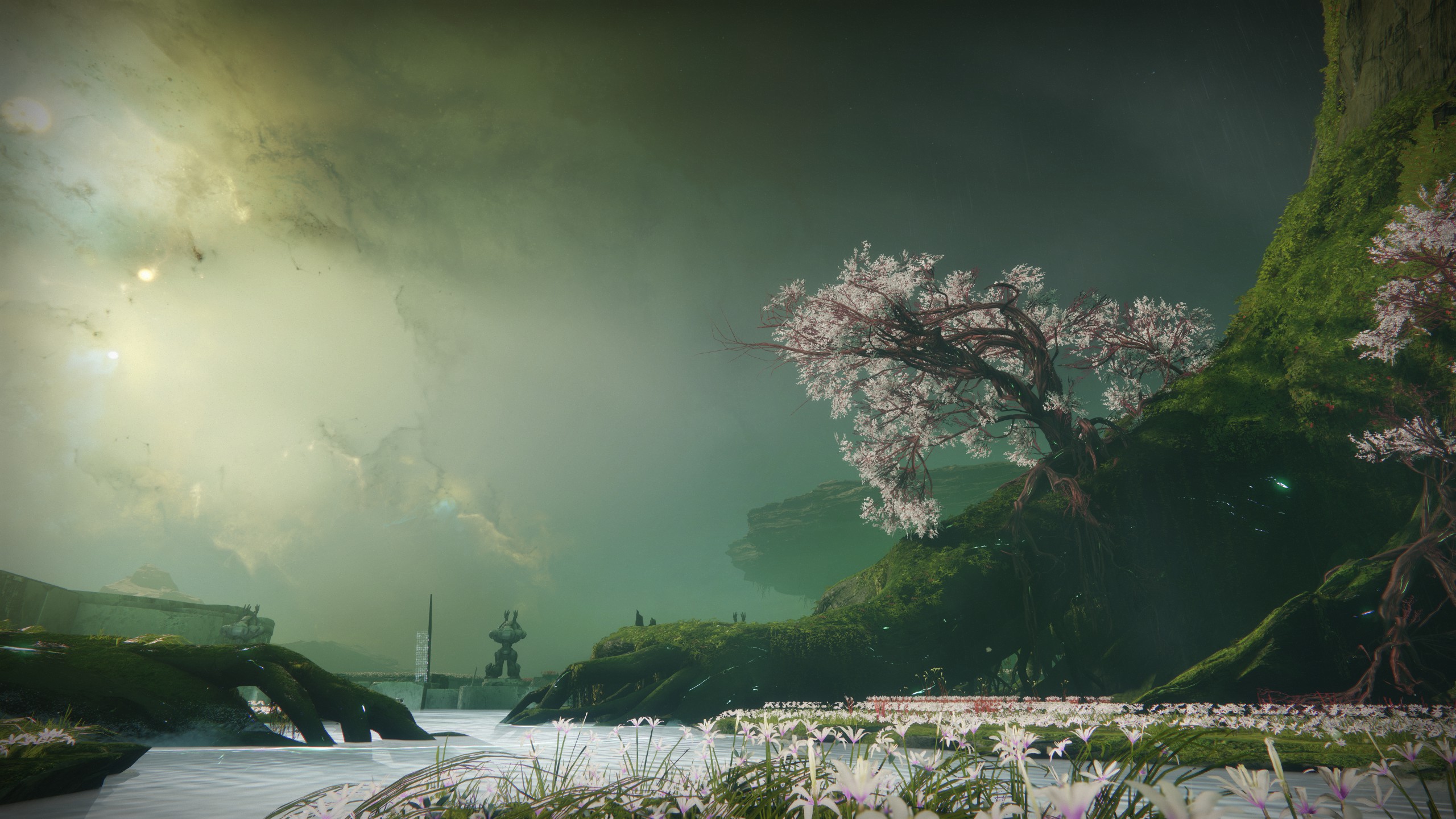 A screenshot I took in the raid.
It was nuts. It came out and it's… pretty good. Not exceptional. It wasn't everything and it definitely marked by how Bungie by themselves is a smaller, more scrappy team, than they were before. But it was a good, solid step in a direction that is more hopeful and more interesting. The campaign reveal was fantastic, the raid is one of my favourites, and its all in all a good addition.
What can I say I was in the mood for more epic fantasy? I wanted to catch up on the more modern classics and this was, upon a bit of research the primary one. It won all the awards and has all the hallmarks, so I read it and really, really liked it.
It's world is terrifying and gruesome and real and wonderful, and the structure works so well at keeping you on your toes as you're reading it, constantly drawing parallels between what you learn throughout. The characters are great and it doesn't stop.
It would be a difficult feat to follow up the amazing entrance of the first season of Mindhunter, but Season 2 in my mind mostly succeeds. By focusing less on the main character from season 1 it shifts to more domestic and more structural issues at play in the FBI and society at large. The final bits of the Atlanta case reminded me a lot of The Wire in its dreadful simplicity upon realizing that no solution is the right one.
Sign me up for any new game by the creator of the Zero Escape series! This is his latest and I'm so glad he can continue to make these strange visual novels with weird, intricate stories and puzzle elements.
This one took some time for me to warm up to, though, as it is significantly different from the Zero Escape games, with a simpler crime story setup at first, and a larger lenience on the wacky which I was a little put off by at first.
It's still a great story and I did really warm up to the characters by the end and the ending goof is phenomenal so it was all in all a good experience.
I'd heard GoGo Penguin quickly in a bouldering gym a while ago and liked it, but hadn't seeked it out since. But when I saw this album drop I decided to check it out and the introduction with the first two songs are incredible. Time-Lapse City, A nice, mellow jazz track followed by Control Shift, which has one of the coolest breakdowns I've heard in a while, and it just rules. It's great background music and great jazzy music with playful drums and piano.
Songs to check: Time-Lapse City, Control Shift, Ocean in a Drop.
I also went back through their discography a bit and Bardo and All Res also rule.
What a bad name. Just, generic as all hell, on a game that at first glance also looks quite generic. But it's somehow managed to fit the Soulslike model onto a co-op shooter which is something I was very sceptical could work. But it does and is a lot of fun with a friend, and suitably difficult and tense when it wants to be. Plus the world and the lore of it goes some unexpected, wild places a couple hours in, and it was really cool to experience that blind.
This is a song that's only in the re-released Persona 5 Royal, an updated version of the original game with some new stuff in it, but not a ton. It's only out in Japan. And therefore I haven't played it, but I have listened to this song a lot. I was surprised to learn they were making new songs for Royal, as it at first seemed like just a glorified patch. But.
This song is apparently a new combat song and it's… just so so good. It sounds like it has existed in the game this whole time.
This might be my favourite song in Persona 5 despite how I never heard it while I played the game. I have not been able to stop listening to it. That ride cymbal on the final chorus just gets me every time. I am moving to this song.
I also wrote about this over here, but I could easily add another 3000 words on what I like about this show. I've since writing that finished all four seasons and they are each incredible in their own way and an absolute joy to see as a total arch. There are definitely a ton of things I did not expect and a lot of ways it still managed to surprise me to the very end.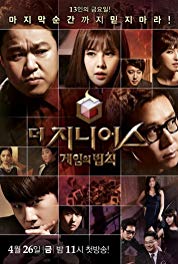 I love all the people on that show, all throughout all 4 seasons. I loved watching them interact and share with and betray and laugh and outsmart each other. I would watch another 4 seasons if they existed.
It's the best game show in the world. Fight me. I can't think of any better. Not just that—it might be the best non-fiction TV series I've ever seen.
I'm going to check out Society Game and Crime Scene now (two other Korean shows recommended to people who like the Genius) because of this. I'm in it.
There maaay have been some natural throughline between me watching a Korean game show and listening to a K-pop band. But really, it was also because of Austin "Xavier Woods" "Creed" Watson on the Giant Bomb E3 show who had a Blackpink shirt on, and someone in the chat commenting how sick that was.
And yes, it is sick that a black professional wrestler (and video game lover) unapologetically wears a loud, brash K-pop shirt on stream.
That's the kind of I-don't-care-about-your-fucking-stereotypes-attitude I wish I was better at doing. So, at some point during the Genius watching, I decided to check out Blackpink.
And Kill This Love owns. [LINK]. In case you didn't know. Also, DDU-DU DDU-DU is also very, very good.
Eliza is a visual novel about a woman who made a technological empire and then left it to depression. It's about her coming back and coming to terms with her creation, seeing what the world has made of it and what it has made of her. It's poignant, stark, relevant, real, and thoughtful.
It's the last game you'd expect Zachtronics to make and yet it feels so natural that you don't really question it as soon as you've started. It is a story about technology and capitalism, and human beings. It's about therapy and life. And it's really good and poignant and without clear answers.
I've never talked about Chihayafuru here before because I watched Season 1 and 2 a while back.
But it hasn't been until now that Season 3 finally came out.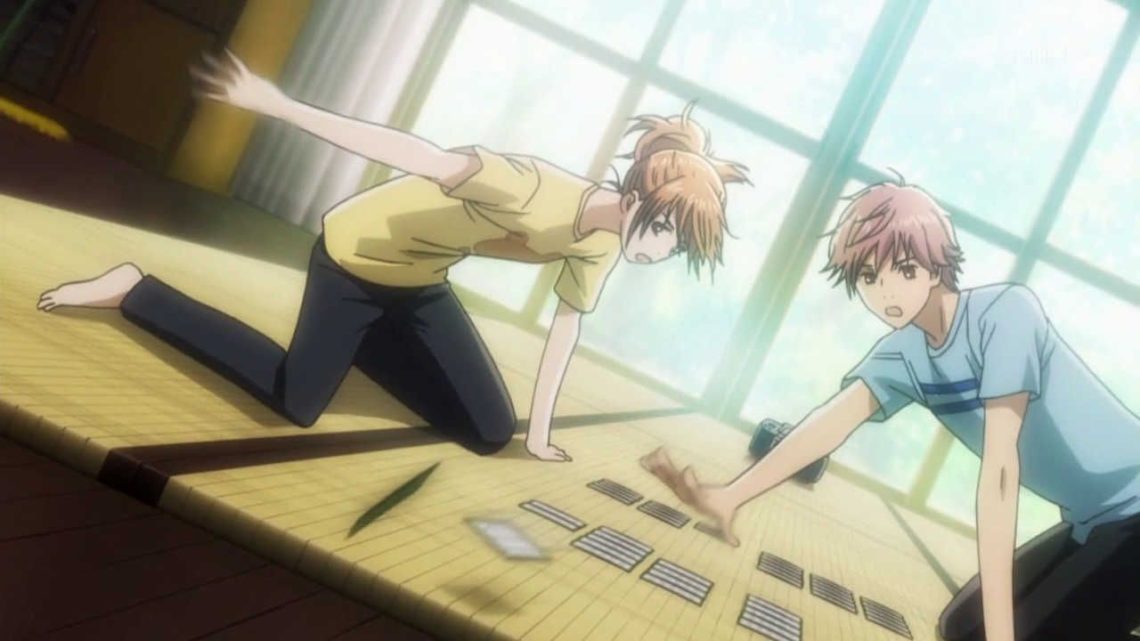 Chihayafuru is, in short, a sports anime about a girl playing an esoteric ancient Japanese card game that at first glance looks like competitive memory. If your first thought is "how do you play competitive memory??" then you echo mine, and that's one of the reasons why I started watching it. The game at first sounds so simple it cannot possibly be a real sport, but it turns out, the further you watch, more and more layers are revealed and more and more intricacies come into play. It's consistently finds ways to make the game fascinating and through solid, enjoyable characters and a good pace it manages to keep you wrapped up when they're not playing too.
Season 3 is still airing so I don't have any thoughts on the whole season yet, but I love being back in that world, after a long time away.
(oh, and the sport is a real thing too, which also seems unbelievable).
I'm writing this as I haven't yet watched the last two episodes of this season but I can safely say already that this season has once again been incredible. Mr Robot was one of my favourite TV series ever already at season 3, and this seasons only done things to improve its standing (with one minor exception but I'll let it slide for now until I know how it ends).
It's no secret I'm a huge Witcher fan from the very first game so I was waiting for this series with great anticipation and worry. I watched the first 4 episodes on the night it came out with friends and that was a wonderful experience by itself, and thankfully, this show is all in all good. The first two episodes seemed like it was getting its footing but by episode 3 it was really cooking, and I was very pleasantly surprised by Superman's rendition of Geralt. I'm overall very happy that this show is out and good.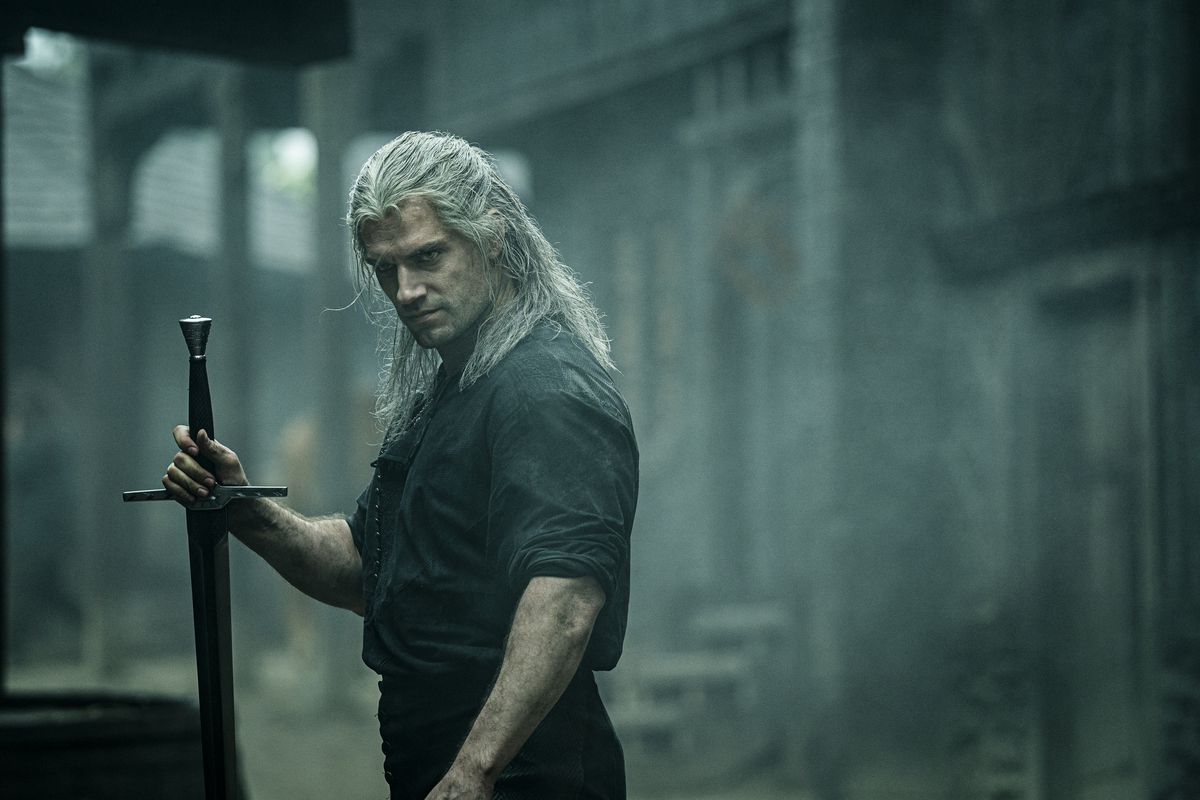 And toss a coin to your witcher.
Is a damn earworm.
OH VALLEY OF PLENTY

OH-OH OH
Ok, and just because it's fun, I'll end with a very brief, not ordered game of the decade list, written just off the top of my head:
The Witcher 3
Rocket League
StarCraft 2
Outer Wilds
Dark Souls
Spelunky
Journey
Rainbow Six Siege
Nier Automata
Persona 5
Or something like that.
Have a good 2020!